本公司皆販售最新版本,目前版本僅供參考
最新版 Notezilla 8.0.37 更新於 2019/4/2
最新版 RecentX 5.0.10 更新於 2019/3/28
最新版 Copywhiz 5.0.8 更新於 2018/12/17


Conceptworld 公司的 Copywhiz (舊名Piky Basket) 能大大提升 Windows 中複製、移動或壓縮檔案或檔案夾的能力。在複製、移動或壓縮之前,可從不同檔案夾選定檔案(也可按條件過濾)。
Copywhiz可以讓你將不同資料夾中的檔案合在一起。讓檔案的複製、移動和備份變得輕鬆與愜意且更據靈活性。
Pick only required files from several folders in one go!

Exclude unnecessary files and folders that occupy huge space

Collect files from multiple folders and copy/compress at once

Auto-rename and auto-skip files when copying them

Schedule your file backups
---
功能
| | |
| --- | --- |
| | Copywhiz allows you to copy only new or modified files or copy files based on file name or extension. You have the complete control. |
| | Copywhiz lets you collect files from different folders and paste them all together. Saves time & effort. |
| | When a duplicate file is found, Copywhiz allows you to replace the existing file if it is older or rename the file before copying the new file. |
| | Use Copywhiz command line options to automate file copy tasks. Copy files to multiple computers or multiple folders in a single click. |
| | Use Copywhiz right from within Windows Explorer. Also supports other file managers like Total Commander, xplorer2 , Directory Opus (dopus), RecentX, XYPlorer & ExplorerXP. |
| | Review list of files that will actually be copied. Ensure that no important file is left behind & no unnecessary file is copied. |
| | Copywhiz lets you retry or skip a file on error. It does not stop abruptly if a file is in use or if the disk is full. |
| | Wish to copy the same set of files again? Just save the list in Copywhiz & re-use it in future. |
---
系統需求
Copywhiz runs on
Windows 10
Windows 8/8.1
Windows 7
Windows Vista
(Both 32 bit & 64 bit)
功能特色
Copy only new or modified files
Many times we wish to share/upload only recently modified files, or backup only changed files to another drive or pick latest music files from multiple folders.
Copywhiz lets you do all of these with just few clicks right from Windows Explorer.
Copywhiz works from other popular file managers also such as Total Commander, xplorer2, Directory Opus, RecentX, XYPlorer & ExplorerXP.
Copy only specific type of files or folders
When copying bunch of files, you may want to exclude some folders containing unnecessary files. Or you may want to copy only certain type of files.
Example: Only pictures and not videos, only source code files and not object files, all documents except .pdf and so on.
Review files before copying them
If you are copying files depending on date, type or size, it is essential to know which files will be copied before actually copying them.
Copywhiz lets you preview the files to be copied. This ensures accuracy.
You can also use this feature to view the list of new & modified files in a folder.
Pick & copy files from multiple folders
Copywhiz lets you pick files from different folders and paste them all at once. This saves a lot if time & effort.
This is useful when organizing music files, sharing files that belong to different folders, copying files from different locations to USB flash drive etc.
Windows only allows you to copy, paste, copy, paste, copy paste & so on. But with Copywhiz, you can copy, copy, copy and paste all together.
Copy just the files without their folders
With Copywhiz, you can copy only the files without creating any folders/sub-folders.
You may have files (pictures, music etc) within multiple sub-folders that you want to pick and copy them all in to a single folder.
Pick & compress files from multiple folders
Copywhiz comes very handy when you wish to compress files from different folders to a single .zip file.
It lets you pick files from different folders and compress them all in a .zip file with least effort.
This way you can easily share/upload a single .zip file containing files from multiple folders. Like picking up best pictures, music or videos from a your library.
Retry or skip files on error
When copying files, Copywhiz does not stop abruptly on error. Instead it lets you retry or skip a file.
For example: If a file is locked (file-in-use), Copywhiz will wait until you unlock the file. In fact, Copywhiz will show you which program is using the file so that you can close the program in order to continue with the file copy.
Also, if the disk is full, Copywhiz will show how much space you need to free in order to complete successfully.
Replace files only if newer or different
With Copywhiz you can skip identical files and overwrite only if the destination file is older than the source file.
This way you don't have to copy the same files again. Save a lot of time when copying large files.
Copy locked files, replace files on reboot
If a file is in use (locked), Copywhiz shows the list of programs using this file so that you can close those programs in order to continue.
Also, you can choose to replace the locked file when you restart your computer next.
These are some special features you would really appreciate.
Auto-rename files with duplicate names
When copying files, you may encounter another file with the same name but different content. Often happens with music & picture files.
You may not want to replace the existing file with the new one but keep both the files.
Copywhiz lets you automatically rename existing file before copying the new file so that you can keep both the files.
Copy files to multiple folders or computers
With a single click, Copywhiz lets you copy files to multiple computers or folders.
You can use some standard date variables such as %year%, %month%, %day% as part of destination directories so that each time the files are copied to a new directory.
Select once copy many times
If you often copy the same set of files to one or more folders, just select the files once and save the list in Copywhiz.
You can later open the saved list and directly run it.
This feature can be used to backup files, synchronize files between two computers, run programs with different data files, test a program with different versions of a file etc.
Automate file copy using command line
Files selected in Copywhiz can be saved to a project file.
Once saved, you can use Copywhiz command line parameters to run the project file from a batch file or a script file.
Refer Copywhiz help documentation for more details.
Other file copy features
Pause and resume file copy, automatically shutdown/hibernate/sleep after a file copy operation.
Also, silent mode copies files without asking questions, log file is generated, change file copy speed to improve performance.
NoteZilla 是一款快速、靈活以及優雅的windows記事軟體。
本軟體可以讓你如同使用普通的紙製3M便利貼一樣。NoteZilla讓你在windows桌面上建立虛擬便利貼﹗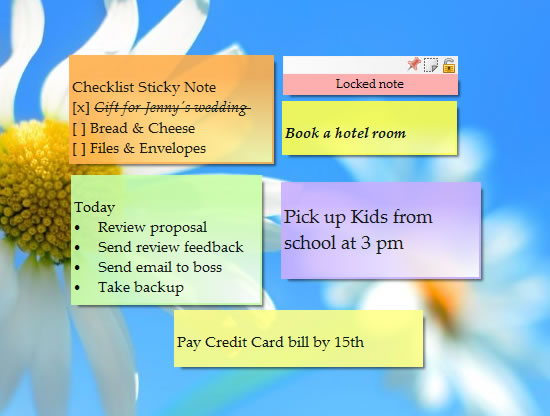 To stay well-equipped:
Keep sticky notes on desktop to get instant access to your important tasks.

Attach sticky notes to documents, folders, websites or programs. See them popup automatically on the right doc/website etc without any effort from your side.

Sync sticky notes with the cloud & access them from any smartphone such as iPhone, Android, Windows Phone, iPad, Blackberry etc.

Sync sticky notes between computers automatically.

Send sticky notes over local network or Internet.
To stay well-organized:
Set reminder alarms to sticky notes.

Organize sticky notes inside memoboards to avoid desktop clutter.

Tag sticky notes. Tagging lets you group similar sticky notes. Makes your work simpler & faster.

Receive reminders as emails right in your mailbox.
---
特色
Desktop sticky notes
Notezilla lets you quickly create Post-It® like sticky notes on Windows desktop.
The advantage of desktop Post-It® notes is that it takes least effort to write what's on your mind. Just jot down & move on with your task at hand.
In this screen shot, you can see desktop sticky notes, password-protected sticky notes, checklist sticky notes, formatted & transparent sticky notes.
Attach sticky notes to docs & websites
Stick notes to documents, web pages, programs, folders, emails or any other window.
When ever you open the document or web page, the attached sticky note appears automatically.
Use hotkey to attach a sticky note to the current document, also has wildcard (*) support to stick a note to multiple pages of a single website or multiple documents belonging to a single folder.
Sticky notes with alarm, checklist, tags etc
Set reminder alarms to sticky notes. Get reminders as emails right in your inbox.
Create checklist sticky notes to easily check off each to-do list item.
Lock & encrypt sticky notes with a master password to protect sensitive information.
Change color, skin, transparency, link files & folders, assign tags to sticky notes.
Organize sticky notes, keep desktop tidy
Keep your desktop less cluttered by moving your sticky notes to different folders.
The Notes Browser (as in picture) lets you keep virtually unlimited sticky notes inside folders. You can use Notezilla to store variety of information.
Work with multiple sticky notes at once.
Sync sticky notes between computers
Keep sticky notes on all your computers in sync with our cloud service.
Notezilla.Net is the name of our cloud service. With Notezilla, you also get 1-year free Notezilla.Net subscription.
Avoid of hassle of carrying & backing up your notes data on all your computers. Let Notezilla sync your notes automatically.
Access sticky notes right from your phone
Once you sync your Notezilla sticky notes with the cloud, you can access them from any smartphone or tablet.
Access sticky notes using our web-app from your iOS (iPhone/iPad), iPad, Windows Phone, Blackberry, iPod Touch, Tablet or any other device.
Write quick notes & reminders right from your phone. Send sticky notes to your contacts from your phone. Web-app is compatible will all touch-based smartphones & tablets.
Assign tags to sticky notes
Group and categorize sticky notes using tags. You can tag a sticky note based on contexts, topics, projects etc.
Getting things done is easy using tags. We can significantly boost our productivity if we use tags creatively.
Insert pictures inside sticky notes
Insert images inside sticky notes. Copy and paste them directly from websites etc.
We like to insert pictures of our inspiration in multiple sticky notes and stick them to our desktop. Very refreshing!
Spell check & rich-text formatting
Notezilla provides sophisticated text formatting features such as font style, color, text alignment, word-count and more.
Also provides ability to insert current date/time & paste as plain unformatted text.
Send sticky notes over network or Internet
Using Notezilla you can send sticky notes to any contact across the globe. Your contact may be in the same network (LAN) or over the Internet.
Notezilla uses the Notezilla.Net cloud to send sticky notes to your contacts.
Your contact will receive the sticky note right on her desktop if she is alse a Notezilla user. If not, she will receive the note as email. You can also send sticky notes to a group of contacts at once.
Find sticky notes quickly
Locating a sticky note in Notezilla is really fast. Just type and the sticky note is right there.
Also provides find-as-you-type, search by content, tags & hotkey support.
Skins
Sticky notes in Notezilla can wear attractive skins such as ruled paper, antique paper etc.
These skins can be downloaded from this website.
Convenient reminder popup window
The reminder popup window's design is sleek and non-distracting.
You can quickly snooze by x minutes, hours, days etc, reschedule or dismiss a reminder & delete a sticky note directly from the reminder popup window
Use sticky notes as alternative to Notepad
Sticky notes in Notezilla are not only meant for writing short notes. You can use them as an alternative to Notepad.
Notezilla allows you to work on sticky notes that are as wide as your display monitor. This way you can also use sticky notes to store large content such as reference material, web snippets, scripts, drafts etc.
You don't have to worry about saving your collected data to separate files.
---
關鍵功能
Sticky notes are the quickest way to write your thoughts and move on to your next important task. Just click, write & go! This saves a lot of time.

Attach a sticky note to a document, website, program or window. The sticky note will pop up automatically when you access that particular document/website.

Getting the information at the right time is important. Notezilla helps you to find your notes very fast.

The advantage of sticky notes is that they can be used as tasks, reminders, to-dos or memos without any complexity. Notezilla presents an intuitive way of doing this.

Communicate faster than Email

Instantly send sticky notes to another computer across local network. You can also send a sticky note over Internet to another Notezilla user via Notezilla.Net cloud service.

Move sticky notes to folders to avoid clutter on your desktop.

Set flexible reminders to sticky notes. Let the program take control and remind you about your things to do.

Regular 3M Post-It® notes are quite expensive. Instead create digital sticky notes on your Windows desktop & save loads of money.

Use these sticky notes with different colors & skins. Insert pictures inside Sticky Notes & leave them on your desktop.

Sync sticky notes with the Notezilla.Net cloud service. Keep multiple computers in sync.

Access your sticky notes using the Notezilla.Net web-app from iPhone, Android, iPad, Windows Phone, Tablet or any device with a modern browser.
---
系統需求
Runs on:
Windows 10
Windows 8/8.1
Windows 7
Windows Vista
Windows XP
(Both 32 bit & 64 bit)
RecentX Launcher 只需三個步驟就可以讓你快速打開檔案資料、文件夾、app或書籤,而且花不到三秒鐘的時間。
你不必再浪費時間通過層層的資料夾、程式表單、凌亂的桌面捷徑或是未分類的書籤就可以找到尋找散亂的檔案。
---
特色
Effortlessly launch any file or folder
RecentX Launcher lets you open any file, folder, program or bookmark.
It avoids tedious navigation through deep folders, menus, files list or shortcuts. Just type & go.
It saves immense time and improves efficiency.
Launch with very few keystrokes
Launch anything using a keystroke.
Each listed item is assigned a unique number (as shown in picture). Typing that number opens the item immediately.
Finds in recent items first
Most often we open the same files & folders again and again.
For this very reason, RecentX Launcher lets us find just the recently access files & folders instead of searching the complete hard drive. This saves a lot of time.
Alternatively, you can also search all items (files, folders, programs & websites).
Automatically knows your favorite files
RecentX Launcher automatically shows the files & folders that you have accessed recently & frequently.
This is very special feature of RecentX. You do not have to spend time configuring it with your favorite items as it is quite hard to keep updating a program with favorite files & folders.
Quickly find & launch programs
RecentX Launcher lets us run an app much faster than Windows. The list is cleaner as it does not show other files or folders like Windows.
It assigns a unique shortcut key number to each program. This makes launching even faster.
Access bookmarks created in any browser
Directly open Internet bookmarks & history from within RecentX Launcher.
No need access Internet Browser's cluttered bookmarks & history menus.
Supports Mozilla Firefox, Google Chrome, Internet Explorer & Opera browsers.
Tag files and folders
Tags let you group files & folders based on categories, file types etc.
This comes handy if you often find yourself opening the same set of folders for a particular project. Avoids folder navigation.
Work with files easily
Copy files, rename or delete them directly from RecentX Launcher without running any file manager such as Windows Explorer.
Drag and drop files from RecentX Launcher to any other window to copy files, attach files, create shortcuts etc. Use tools such as Copy Paths, Command Prompt here, Send To menu from within RecentX Launcher.
Quick access using the sidebar
RecentX Launcher can be accessed using a convenient desktop sidebar. With a single click you can go to any category (Files, Folders, Programs or Websites).
RecentX Launcher can also be accessed using hotkeys.
---
功能
Instantly launch any file, document, folder, app, web history or bookmark using very few keystrokes.

Avoids outdated ways of accessing folders

Avoids tedious folder navigation. No need to access deep folder trees & sub-menus in order to launch any document, folder, program or website. Just type & go!

Assign tags to files & folders. Group them based on projects. Access them in a single click.

Whole computer on your Windows desktop

Traditionally, one would keep only essential files on Windows desktop for faster access. But with RecentX Launcher, accessing any file, any level deep is equally fast.

There is nothing to learn

RecentX Launcher is simple & works out of the box. You don't need to configure your favorite files or folders. Just install & see it working.

Automatically gets the files and folders that are more important to you. Items that are recently & frequently accessed are shown before other trivial items. Makes launching easier.

Perform frequent file operations such as copy, move, delete, rename without launching a file manager such a Windows Explorer.

One stop for all your bookmarks

Get fast access to bookmarks & history from Mozilla Firefox, Internet Exporer, Google Chrome & Opera.

Access remote folders like local

Automatically lists the network folders that you access. Launching a network folder any level deep takes less than 3 seconds.

Does more than just launching

Find any file or folder on your computer in less than 3 seconds, attach a file to email using drag & drop, use Windows Explorer plug-ins from RecentX Launcher.
---
系統需求
RecentX Runs on:
Windows 10
Windows 8/8.1
Windows 7
Windows Vista
(Both 32 bit & 64 bit)