.netCHARTING 結合逼真的圖形界面和一個為您帶來一個最全面的、引人注目的圖表解決方案,可用於任何平台。.netCHARTING 利用 .NET 框架和 GDI+,提供在 ASP.NET 或 WinForms 環境的C#和VB.NET開發人員一個管理的圖表解決方案。使用最新的微軟技術使我們能夠超越現有的視覺製圖步驟的標準並且產生的視覺效果要遠遠強於典型的動態圖表解決方案。事實上,我們希望你會同意.netCHARTING視覺效果甚至優於高端桌面製圖應用!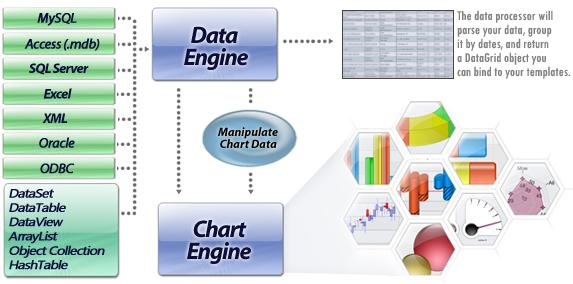 ---
更新介紹
Venn and Euler Diagrams
A new Venn and Euler diagram chart type has been added to JS charts.

Automatic Venn Color Blending
Using the default ChartType.Venn option, venn diagram elements that are made up of two or more overlapping shapes will blend the underlying colors. Using the ChartType.VennColorByPoint option will assign a unique color to each element.

RTL Text support with JS Charts
The JavaScript output now offers full right-to-left language support. The chart will automatically apply this feature when a RTL language culture string is specified.

Improved First Chart Render Performance
The JavaScript library files needed on the server to render charts are now reduced making the initial JS chart load faster.

Element.SecondaryColor Support in JS Charts
Secondary color is now applied in JS charts for use with finance candlestick and bar series and circular bar (activity ring) charts.

Label.Outline Support in JS Charts
The native label outline capabilities of .netCHARTING are now supported in client side charts as well.

Three Highlighting Modes in JS Charts
Element and series highlighting is automatically enabled when hovering legend entries and element axis ticks. It is also available when hovering data elements, which is automatically enabled with the Venn chart type.
- HighlightElement - Mutes all data except the hovered element.
- HighlightSeries - Mutes all data except the element of the series being hovered.
- HighlightElementGroup - Mutes all data except the element group being hovered. An element group refers to elements across all series that share the same x value or name.

Specify Hover Actions
You can specify the hover action of data elements, legend entries, and element axis ticks.

Native Series FirstElement and LastElement properties for JS Charts
he native .netCHARTING series now support FirstElement and LastElement properties to specify the settings for the first and last elements. This is useful when applying settings to the chart default series, configuring those elements to show labels or assigning axis ticks to them.

Element.XAxisTick And YAxisTick Support in JS Charts
The x and y axis tick properties of element objects are now fully supported in JS Charts.

Native Axis.Crosshair Property and Support for JS Charts
The axis crosshair in JS charts can now be set through the .netCHARTING Axis.Crosshair property.

Improved JS Chart Tooltip Positioning
Tooltips are now smarter and more aware of elements around them in JS charts. This makes charts easier to read when hovering chart elements with the mouse cursor.
Improved JS Chart Interactions Performance
General chart wide performance improvements in JS Charts.
Native Element.FocusGlow Property for JS Charts
This property defines the outline of elements when they are hovered in JS charts. With combined tooltips, this outlines all elements mentioned in the tooltip.
General Features
.net Framework 2.0, 3.x and 4.0+ Support

2D and 3D rendering of charts.

Chart Mentor.

Ajax Scrolling

Ajax Zooming

Ajax Tooltips

Ajax auto update

Zoomer Performance/Interoperability enhancements

WinForms Mentor

Printer Friendly Text.

Quarter and Ordinal (1st, 2nd) formatting .

HTML Hotspot Event Attributes

Automatic drill down support.

Maintain color synchronization in drill down.

ToolTip support.

Rich ToolTip support.

Specify depth of 3D charts

Over 100 data related tokens for label templates.

Specify format strings for tokens on the fly within templates.

Design-Time support

Chart area label

Correction Warnings. Improper settings will be automatically corrected.

Default Series, Element, Axis, Shadow

Specify line objects for the title box, legend box, smart labels and many more.

Custom and random color palettes.

Separate shadow settings for chart areas, and boxes.

Image scaling makes it possible to make the smallest graphs.

Custom margins

Advanced Background class defines drawing options for virtually all chart objects.

Unlimited x and y axes.

Bind series to different x and y axes.

Label Trimming

Chart image links

Exposed image map.

Get the position and size of any box after chart is rendered

Save / Load chart object state in xml.

Smart Palette Support

Automatically generate a smart palette.

Save / Load smart palette in xml.

Color Swatch Support

Color Range Support

Auto Generated SmartPalettes from list of colors

Auto Generated SmartPalettes from series values

Transparent color support

Smart Colors for value ranges

Smart Colors with a two color (gradient) range.

SmartForecast automation.

46 Five color palettes.

Multiple palette support

Small chart mode

msi Based Installer
JavaScript and HTML5 Charts
JavaScript / HTML Chart output

Comparable Visual and User Experiences

Dynamic Tooltips

Bar Shading Effects

Animation

Trouch-screen support

Real-Time Updates

Client Side interactivity

iPhone, iOS, Android, WP7 & Tablet Support

Browser Compatibility- Supports

Chrome

FireFox

Safari

Opera

Internet Explorer (version 11+)

Mobile WebKit

Image, vector and PDF Export

Client side printing support.

Series Hiding

Element Highlighting

Zooming

Slider Input Control

Accessibility

Line Caps

Client-side JavaScript API

Label Features

Label Token Support

Label Expressions

---

Horizontal line

Lists

Image support
Icons (native svg vector support) are now supported in all text labels

Data point SmartLabels

Data point %icon token

Superscript and Subscript

Data Point SmartLabels

Auto rotate on columns

Avoid other labels and points

Axis Features

Multiple-Axes

Smart Axis Scale Breaks

Time Y Axis Scale

Dynamic Token Tick & Axis Marker Values

Custom Ticks

Logarithmic Scale

Stacked Logarithmic Scale

Tick Placement (inside/outside)

Calendar Pattern Scale Breaks

Scale Break Types

Axis Crosshairs

Axis Range Ticks

AxisTick CalendarPattern Values

Category Scale Names == Ranges

Logarithmic Scale Improvements

Point Axis Ticks

Axis Number Shortening and Magnitude Formatting

Legend Enhancements

Dock and align inside or outside the chart area

Legend Entry LineAbove Option (API: DividerLine)

Automatic Column Alignments

Annotation Enhancements

Dock and align inside or outside the chart area

Mapping Support

Complete maps of all countries / states / provinces

Map context shows surrounding maps automatically

Select and customize map features easily with filters and selectors

Thematic mapping with advanced legend range support

geoJSON and topoJSON is supported for custom maps (not required)

Massive set of highly tuned maps doesn't require any map files or experience

Add map layers in real-time for advanced dynamic maps

Plot lines, markers, and bubbles on maps.

DataGrid Control

Microchart and Icon Syntax

Token Formatting and Expressions

Chart to Datagrid

Export to CSV

Chart Types

Combo

ComboHorizontal

Pie

Pies

Donut

Donuts

PiesNested

Radars

Gauges

Funnel

Pyramid

Cone

Treemap

Gantt Support

Calendar Heatmap

Automatic view based on data.

Every view available in vertical (default) or horizontal.

Every view groups data into subvalues for each cell.

Automatic tooltips with microcharts for subvalues.

Point binding by date or calendar patterns.

Bind multiple points to a single cell.

Bind single point to multiple cells.

Calendar pattern based Highlights with real-time FP API

Mosaic/Marimekko/Variwide Type

Series Types

Bar/Column

Range Bar/Column

Error Bars

Line

Marker

Spline

AreaLine

AreaSpline

Range AreaLine

Range AreaSpline

Bubble

Microchart Types

AreaLine

Bar

BarFull

Bullet

Column

Heatmap

Pie

Progress

Scale

Sparkline

Chart Areas

Multiple areas

Size each chart area (multi areas only)

Control spacing between pie/radar/gauge type elements

Data info tokens in area label

Chart area label alignment.

Control padding between chart areas and other boxes.

Specify corner sizes

Specify CornerStyles for corners not touching axes.

Advanced Empty Element Support

Mark with element markers, text, tool tips, colors.

Modes: None, Fill, TreatAsZero, and Ignore.

Output Features

Get a chart Bitmap.

Get a bitmap of the legend only.

Save bitmaps with the .netCHARTING system instantly.

Work with coordinates for each element after a bitmap is generated.

Output images as JPG, PNG, and BMP.

Output Flash, Svg, and Pdf formats.

Full Xaml Support.

Output as Svgz (compressed svg)

Tiff image format

Wmf & Emf vector formats

Automatic cache subsystem.

Memory Stream

Session streaming support.

PNG Variable Transparency

Annotations

Attach to any element or free floating positioning.

Dynamic tool tips and link url.

Takes Series, Axis Marker or Element as data source for tokens.

Vertical & Horizontal text alignment.

Smart Orientation

Smart PieChart Annotation Orientation

Box Header support

Specify corner sizes

Specify only Width or Height and the other dimention is sized automatically.

Box Headers

13 Box Header Cap Styles

Start and End Alignments

Vertical Alignment

Enhanced Box Header Designer

Position Offset

Header Shadow

Robust settings allowing thousands of different visuals.

Applies to any boxes like Annotation, Title, and Legend.

Header Orientation (Top,Left,Right,Bottom)

Dynamic Ribbon Caps

Background Object

Standard Gradient

Angled Gradient

Solid Color

Tiled Image

Stretched Image

Hatch Style

Hatch Color

Bevel Effect

Glass effect

Use a custom brush to fill the background.

Seven Shading Effect Modes

2 Additional Background shading effects.

Visible Setting

Transparency Setting

Multi-Color Gradient stops

Dynamic default shading

Smart Label System

Labels will not overlap.

Labels point to elements they represent.

Custom line pointers.

Force labels to be drawn when there is no room.

Label Alignment Support

Supply a list of secondary alignments to try and find the best fit.

Use descriptive tokens and mathematical expressions in label strings.

Label Hotspots

Label Outlining

Automatic Wrapping

Label Drop Shadows

Label Glow Effect

Digital readout label style.

Image Substitution for label

Absolute positioning

Smart Label Padding

Smart Label Distance Threshold

Embedded Layout Markup Support

Embedded Font Styling

Embedded Tooltips and URL support

Block alignment

Embedded Image Streaming from aspx pages

Embedded InfoGrids™

Embedded MicroCharts
Web Site License:
(Usage on a single fully qualified domain for 1 server)
At .netCHARTING we recognize that not every company has their own dedicated server or thousands to spend on charting for their web site. But rather than releasing a less capable, feature limited version, we are providing the extensive power of the full product at unprecedented savings for use on a single fully qualified domain (e.g. www.yourdomain.com).
---
Server License:
(Usage for any number of web sites on 1 server)
For those running multiple sites we offer an aggressively priced server offering. Our most popular option, the server license allows any number of web sites on a given server to use the product. The server version requires installation in the Global Assembly Cache.
---
WinForms (desktop) License
(Usage by a single developer for a single application)
In addition to usage in a server and web site environment, .netCHARTING is also available for use in Winforms (desktop) environments.
Each WinForms (desktop) license purchase includes:
* A license for WinForms (desktop) usage for one developer working on one application.
* The complete set of Enterprise level .netCHARTING features
* Royalty free distribution when the distribution terms are met.
.netCHARTING被設計為用於在使用ASP.NET的Web伺服器環境中。
.netCHARTING WinForms版本還支持在桌面應用程式中使用。
Supported Operating Systems
Windows 2000 Server

Windows XP Professional

Windows 2000 Professional

Windows Server 2003
Additional Requirements