Nevron .NET Vision 是一套系列產品,具有專門設計的對象模型、多種顯示特性,顯示品性更是無與匹敵,可以簡單全面的顯示複雜數據。幫助您創建傑出的Winforms及ASP.NET數據表述應用程式,帶有卓越的數據展示能力。
Nevron Vision for .NET offers the most comprehensive set of components for building enterprise-grade data visualization applications that target both the web and the desktop.

The components in this suite feature coherent 2D and 3D data visualization effects that have a great visual impact on the audience. We have also implemented a large set of data visualization techniques and innovations to maximize the clarity of the visualized data and to make it more comprehensive for the viewer.

The components are built upon a common framework, thus minimizing the learning curve needed to get started with them as a whole. The common framework also ensures consistent features, performance, polished API and other benefits that are a product of over a decade of refinement.
Nevron Chart for .NET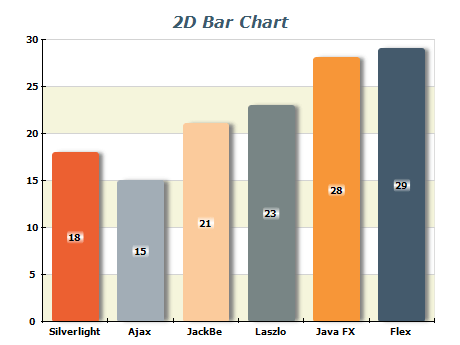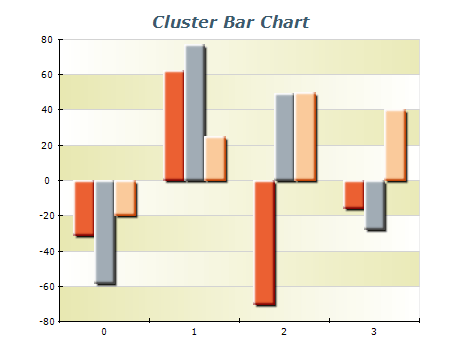 Nevron Chart for .NET
Nevron Gauge for .NET
Nevron Diagram for .NET
Nevron Map for .NET
Nevron User Interface for .NET
Nevron Open Vision for .NET is an end-to-end application development platform based on .NET. It provides a powerful set of UI controls and heavy components, so that you can create feature-rich Applications and premium User Interfaces for multiple operating systems from a single code base.

NOV changes the way in which you develop with .NET. Now you can write UI code that runs on Windows, Mac, Silverlight, Android and iOS without any modifications. NOV is very similar to a modern browser, but without the limitations of HTML5 and with additional features allowing enterprise-grade native applications development.

NOV aims to run on all major operating systems and integrate with already existing .NET-based presentation layers. WinForms, WPF, Silverlight, MonoMac and Xamarin.Mac are already supported. With planned support for Android, iOS and WinRT, it is really not hard to see the benefits of using NOV.

NOV is not just a framework for portable application development – if you need premium quality UI, Rich-Text Editor, Charts, Gauges, Diagrams etc. for any of the NOV supported environments you can simply use the ones developed with NOV.

NOV offers countless benefits for developers, project managers and component vendors alike. Make sure you are not coding it twice - explore NOV - a whole new way to develop.
Nevron Vision for SharePoint delivers the web parts needed to author advanced reports and dashboards inside any SharePoint page – and what is best – you do not need to be a developer to do that.

Leveraging years of experience, Nevron Vision for SharePoint delivers leading data visualization and unique know-how, which is at the same time entirely visually configured through an exhaustive web-based interface. This makes it possible for developers and non-developers alike to take advantage of the flexibility and feature richness these web parts have to offer – directly inside the browser.

The web parts included in this suite can extract data from a diverse range of data sources including: variety of databases, SP Lists, SP Site Queries, Excel Services and BDC. They are also equipped with a fast, reliable and flexible data aggregation engine, which allows the authoring of complex dashboards and reports that perform sophisticated data analysis.

Nevron Vision for SharePoint is unique in the breath of its offering – from simple charts and KPIs to sophisticated drill-down reports and dashboards – this suite of web parts delivers it all to you – the regular SharePoint user.
Nevron Vision for SSRS delivers exclusive enhancements to your reports in all versions of Reporting Services. No other solution for SSRS offers more data visualization power, features, performance and flexibility – all integrated inside the native Reporting Services environment.


Literally all aspects of enterprise report authoring are significantly enhanced by this essential SSRS add-on, including: superior charts, gauges, maps and barcodes with incredible flexibility and feature set, advanced visual editors that allow easy integration with your data, backward and forward reports compatibility, diverse ways to enforce your company branding across reports and many more features and enhancements that are exclusively available from Nevron.
Advanced Diagramming Software and Vector Graphics Drawing Tool
Separator
Create flowcharts, organizational charts, mind maps, network diagrams, floor plans, UML diagrams and general business diagrams with MyDraw.
Powerful Diagramming Features
MyDraw includes powerful features to help you with your flowcharts, org charts, mind maps, network diagrams, floor plans, general business diagrams and drawings.
Including libraries with hundreds of diagram shapes and symbols, templates, powerful drawing tools, automatic diagram layouts, advanced printing and exporting capabilities, and many more, MyDraw is the right diagramming solution for your business, or personal projects.
Low Cost Microsoft Visio® Alternative
MyDraw is the best Microsoft Visio® alternative for Windows and macOS (Mac OS X).
You can easily replace Visio® with MyDraw, no matter if you are using a Windows PC, or a Mac machine. When it comes to visual communication and seamless collaboration between many people, or large businesses, the MyDraw diagramming software is a perfect solution. Sharing your flowcharts, org charts, mind maps, network diagrams, floor plans and general business diagrams has never been easier for Windows and macOS users.
The advanced Visio Drawing Import and Export (VSDX Import/Export) of MyDraw will allow you to easily convert your Visio diagrams and work with them in Apple macOS and Windows Operating Systems. MyDraw also provides support for Visio-like "smart" shapes - dynamic diagram shapes based on formulas. With its exceptional and unique features, MyDraw is even better than Visio®.