本公司皆販售最新版本,目前版本僅供參考
最新版 TINA Design Suite v12.1 更新於 2019/12/16
TINA Design Suite 是匈牙利 Designsoft Inc.公司推出的電子電路設計模擬分析軟體。身為一款集結設計、模擬和分析模擬、數位以及混合型電子電路的軟體, TINA Design Suite就是一款強大的軟體。因此是一套值得推薦的電路模擬與教學軟體。它的分析結果可展現在完善的圖表中或顯示在一系列虛擬設備裡。TINA Design Suite 的電路圖編輯器可快速地建立任何電路。
除一般的功能之外,還提供一個與外部連接的功能,只要連接到實驗箱上, 就能將在箱上的電路直接顯示在電腦的螢幕上, 使虛擬的電路不再虛擬。
TINA Design Suite 功能及特色
1. 電子電路圖設計、電路的分析模擬 (數位電路、類比電路 、混合電子電路、單晶片電路、VHDL電路)
2. 易懂易學,縮短教與學的距離,提高學習的效率
3. 符號分析功能 : 將分析結果用方程式的形式表示出來
4. 強大的圖表顯示功能 : 能將分析的波形圖放置在線路圖旁,便於分析
5. PCB layout軟體
6. 可以在 3D 介面下,進行電路模擬及控制
影片
Demonstration of Pitfalls related with the Feedback Capacitor in Low-pass Filters
---
更新介紹
32-bit and 64-bit version

Power dissipation and efficiency calculation

IBIS model import and analysis

Integrated cursor display in the diagram window

Cursor displays for all curves in transient diagrams

Syntax highlighting in Spice and HDL editors

HDL library compilation and management

Global parameter stepping

Enhanced RF component insert dialog

S-parameter wizard

Spice control command editor (.AC, .DC, .NOISE, .TRAN)

Enhanced support of PSpice format digital blocks

Running Spice simulation from command line (external tool for netlist format)

Running TINA from command line (.TSC format)

Store last settings of virtual instruments

Control for automatic separation of outputs in the diagram window
Convergence improvements
Auto converge (Automatic solution of convergence problems with system or user defined different parameter sets)

Transient simulation with zero initial voltages if operating calculation fails
New device models
New Delta-Sigma ADC devices

BSIM3V3.2 model

GaAs devices

GaN devices
Advanced MCU support
More than new 500 MCUs, 1400 MCUs total

PIC16 microcontrollers (222 devices)

STM32 F4, F7 microcontroller support (227 devices)

PIC18, PIC32 CAN interface support

Texas Instruments Tiva C Series TM4C123x Cortex-M4 microcontroller support (51 devices)

MCP23S17 I/O expander support

Texas Instruments Sitara AM3358 processor support

Serial Monitor window for monitoring serial communication
Other new features
Interpreter functions for standard values for components (E series)

Set global parameter as input of DC transfer calculation

Add comments to design tool input parameters

Hotkey editor – define custom hotkeys

Show partial result of transient simulation if simulation is aborted

Advanced analysis control links
PCB Design
Bus connection

Transmission line design (Differential pair)

Block repetition (Macro-block copy)
TINACloud
Schematic editor in the main window

Instant save of any changes in circuit

Virtual instruments

Advanced analysis control links

PCB Design
Powerful Offline Circuit Simulation & PCB Design with TINA Design Suite
A unique feature of TINA is that you can bring your circuit to life with the optional USB controlled TINALab II and LabXplorer hardware, which turns your computer into a powerful, multifunction T&M instrument. Electrical engineers will find TINA an easy to use, high performance tool, while educators will welcome its unique features for the training environment. TINA is an acronym of "Toolkit for Interactive Network Analysis.
Free Online Circuit Simulation with TINACloud
With TINACloud, in additon to the installable versions, now you can also edit and run your circuit simulation designs online on PCs, Macs, thin clients, tablets, smart phones, smart TVs and e-book readers without any installation. You can use TINACloud in the office, classroom, at home and while travelling, anywhere in the world that has internet access. For limited time we are offering a FREE bundle of TINACloud with all new licenses of TINA.
Spice Circuit Simulator
TINA has one of the most powerful and best converging Berkely Spice and XSpice based Spice circuit simulator engine on the market, supporting most Spice dialects with parallelised processing and precompiled models. In addition to the large Spice component libraries in TINA, you can create new TINA components from any Spice subcircuit, whether created by yourself, downloaded from the Internet, obtained from a manufacturer's CD or from portions of schematics turned into subcircuits. TINA automatically represents these subcircuits as a rectangular block, but you can create any shape you like with TINA's Schematic Symbol Editor.
HDL Circuit simulator
TINA now includes all major analog, digital and mixed Hardware Description Languag es: VHDL, Verilog, Verilog-A and Verilog AMS to verify designs in analog, digital and mixed-signal analog-digital environments. Your circuits can contain editable HDL blocks from the libraries of TINA and Xilinx or other HDL components created by yourself or downloaded from the Internet. TINA compiles HDL into highly efficient machine code for speed optimization. You can freely combine HDL and Spice macros and the schematic components of TINA. Also you can edit the HDL source of any HDL components then simulate and see the result instantly.
Microcontroller (MCU) Cicuit Simulator
TINA includes a wide range of microcontrollers (PIC, AVR, 8051, HCS, ARM) which you can test, debug and run interactively. The built in MCU assembler allows you to modify your assembler code and see the result promptly. You can also program and debug MCUs with the built-in flowchart tool or in C using external C compilers.
Super-fast Multi-core Circuit Simulator Engine
Every year, electronic circuits become faster and more complex, and therefore require more and more computational power to analyze their operation. To meet this requirement TINA v9 has the ability to utilize the increasingly popular scalable multi-thread CPUs. Computers that incorporate dual or quad core CPUs can deliver up to 20-times faster execution time for TINA's analysis engine compared to previous versions and main competitors.
Open from the Web!
Now you can open TINA designs, models and libraries as well as Import Spice .CIR and .LIB files directly from the Web.
Easy to use schematic entry
Enter any circuit within minutes with TINA's easy-to-use schematic editor. Enhance your schematics by adding text and graphics elements such lines, arcs arrows, frames around the schematics and title blocks. Choose components from the large library containing more than 20,000 manufacturer models. You can check schematics for errors with TINA's advanced ERC functions. The schematic editor supports complex hierarchical designs, team design and version control.
Powerful analysis tools
Analyze your circuit through more than 20 different analysis modes or with 10 high tech virtual instruments. Present your results in TINA's sophisticated diagram windows, on virtual instruments, or in the live interactive mode where you can even edit your circuit during operation, develop, run, debug and test HDL & MCU applications.
Design Tool
This powerful tool works with the design equations of your circuit to ensure that the specified inputs result in the specified output response. The tool offers you a solution engine that you can use to solve repetitively and accurately for various scenarios. The calculated component values are automatically set in place in the companion TINA schematic and you can check the result by simulation. This new feature is also very useful for semiconductor and other electronics component manufacturers to provide application circuits along with the design procedure.
Optimization
Using TINA's built-in Optimization tool unknown circuit parameters can be determined automatically so that the network can produce a predefined target output values, minimum or maximum. Optimization is useful not only in the design of electronic circuits, but also in teaching, to construct examples and problems. It is a very good tool to refine the results provided by a design procedure or tune already working circuits.
Integrated PCB design
The new fully integrated layout module of TINA has all the features you need for advanced PCB design, including multilayer PCB's with split power plane layers, powerful autoplacement & autorouting, rip-up and reroute, manual and "follow-me" trace placement, DRC, forward and back annotation, pin and gate swapping, keep-in and keep-out areas, copper pour, thermal relief, fanout, 3D view of your PCB design from any angle, Gerber file output and much more.
Advanced presentation tools
Make stand-out reports and presentations of schematic diagrams, annotations, formulas provided by symbolic analysis, Bode plots, Nyquist diagrams, poles and zeros, transient responses, digital waveforms, and other data using linear or logarithmic scales. Customize presentations using TINA's advanced drawing tools to control text, fonts, axes, line width, color and layout. You can create, edit and print documents directly inside TINA or cut & paste your results into your favorite word processing or DTP package.
Educational tools
Educational tools. TINA also includes unique tools for testing students' knowledge, monitoring progress and introducing troubleshooting techniques. With optional hardware it can be used to test real circuits for comparison with the results obtained from simulation. With the Live 3D breadboard tool you can automatically build a life-like 3D picture of a solderless breadboard. When you run TINA in interactive mode, components like switches, LEDs, instruments, etc. become "live" and will work on the virtual breadboard just as in reality. You can use this capability of TINA to prepare and document lab experiments. You can also use the integrated Flowchart Editor and Debugger to generate and debug the MCU code, learning and teaching microcontroller programming.
Virtual Instruments
Oscilloscope, Function Generator, Multimeter, Signal Analyzer/Bode Plotter, Network Analyzer, Spectrum Analyzer, Logic Analyzer, Digital Signal Generator, XY Recorder.
Real time measurements
TINA is far more than a circuit simulator with virtual measurements. You can install optional, supplementary hardware that allows real-time measurements controlled by TINA's on screen virtual instruments.
TINALab II multifunction PC Instrument
With the TINALab II high speed PC instrument you can turn your laptop or desktop computer into a powerful, multifunction test and measurement instrument. Whichever instrument you need multimeter, oscilloscope, spectrum analyzer, logic analyzer, arbitrary waveform generator, or digital signal generator it is at your fingertips with a click of the mouse. In addition TINALab II can be used with the TINA circuit simulator program for comparison of circuit simulation and measurement results as a unique tool for circuit development, troubleshooting, and the study of analog and digital electronics.
TINA and TINA Design Suite version comparison

TINA
Industrial

TINA
Educational

TINA
Classic

TINA
Basic Plus

TINA
Basic

TINA
Student

Open designs, models & libraries from Web

+

+

+

+

+

+

+

+

+

+

+

+

Automatic/manual wire routing and drag support

+

+

+

+

+

+

Instruments as standard schematic symbols

+

+

+

+

+

+

+

+

+

+

+

+

+

+

+

+

+

+

+

+

+

+

+

+

Integrated Schematic Symbol Editor

+

+

+

+

+

+

Integrated Netlist Editor

+

+

+

+

+

+

Excitation Editor for arbitrary waveforms

PCB export to major packages

+

+

+

-

-

-

HDL extension
(Verilog, Verilog A & AMS, SystemC)

+

+

+

-

-

-

Hierarchical and Team Design with Version Control

+

+

-

-

-

-

Parameter Extractor/Model Maker

+

+

-

-

-

-

PCB Design (in Design Suite only)

Analyses

+

+

+

+

+

+

Enhanced analysis speed & convergence

+

+

+

+

+

+

Max. number of external nodes and nodes in macros

DC, AC, Transient, Digital, Mixed mode Simulation

Steady State Solver (SMPS analysis)

+

-

-

-

-

-

+

+

+

+

+

+

RF models given by S-parameters

+

+

-

-

-

-

+

+

-

-

-

-

Number of components and models

34,000

34,000

25,000

25,000

25,000

25,000

MCU simulation and debugging

Circuit changes while a simulation is running

+

+

+

+

+

+

Symbolic Analysis (closed formulas)

Fourier Analysis (harmonics)

Fourier Analysis (spectrum)
Minimum hardware and software requirements
• Intel Pentium or equivalent processor
• 1 GB of RAM
• 300 MB of available hard disk space
• CD-ROM (in case of CD ROM installation)
• Mouse or touchpad
• VGA adapter card and monitor
• Microsoft Windows XP, 7, 8, 10
• Supported Networks (for Network versions): MS Windows 2000/2003/2008/2012 Server or later, Linux Server, Novell Netware version 3.12 or later.

If the program is copy protected by a hardware key, the minimum hardware configuration includes also a USB port
TINALab II
High Speed Multifunction PC Instrument
With TINALab II you can turn your laptop or desktop computer into a powerful, multifunction test and measurement instrument. Whichever instrument you need multimeter, oscilloscope, spectrum analyzer, logic analyzer, arbitrary waveform generator, or digital signal generator it is at your fingertips with a click of the mouse. In addition TINALab II can be used with the TINA circuit simulation program for comparison of simulation and measurements as a unique tool for circuit development, troubleshooting, and the study of analog and digital electronics.
LabXplorer
Multifunction Instrument for Education and Training with Local and Remote Measurement capabilities
LabXplorer turns your desktop, laptop, tablet or smart phone into a powerful, multifunction test and measurement instrument for a wide range of applications. Instruments, whatever you need, are at your fingertips. LabXplorer provides multimeter, oscilloscope, spectrum analyzer, logic analyzer, programmable analog and digital signal generator, impedance analyzer and also measures characteristics of passive electronic components and semiconductor devices.
FPGA Development Board
The TINALab Spartan-II FPGA Development Board provides an easy-to-use, low-cost evaluation platform for developing designs and applications based on the Xilinx Spartan-II FPGA family. Download your VHDL design developed with TINA, test with the switches, push buttons, LEDs and LCD on the board or measure back the signals with the help of TINALab II Digital Signal Generator and Logic Analyzer.
LogiXplorer
High Speed, Small Size Logic Analyzer, with USB Interface
easure digital signals with the LogiXplorer logic analyzer providing 32 channels sampled at high speed clock rates up to 500MHz with two additional state clock inputs. Offers dual-channel trigger threshold, multi-level triggering, frequency meter, protocol analyzer capability and real-time sample compression.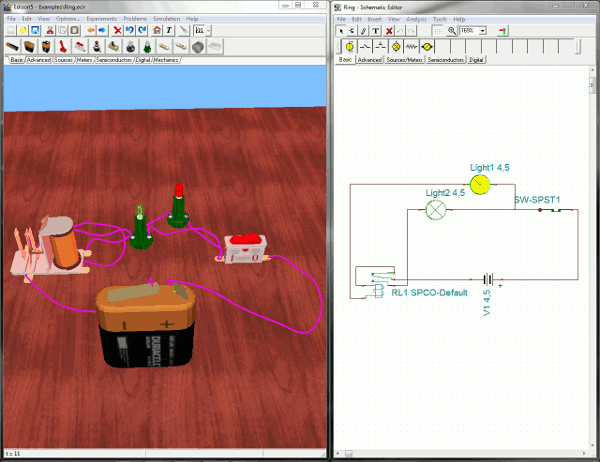 Edison
Multimedia Lab for exploring electronics and electricity
Edison version 5 is a unique new learning environment for electricity and electronics. Teachers and students can use multimedia screens, virtual instruments, sound, and animation to create, test, and safely repair circuits. Real-time 3D graphics and lifelike 3D components will captivate your students as they build circuits in the real 3D world. Edison also comes with over 100 experiments and problems that teachers and students can use immediately.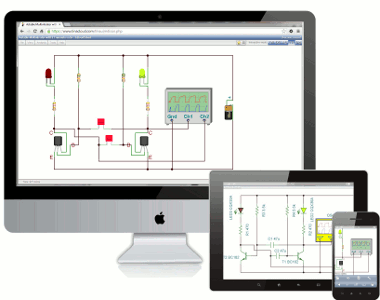 EDISON Cloud
WEB-BASED MULTIMEDIA LAB FOR EXPLORING ELECTRICITY & ELECTRONICS
Lifelike 3D components will captivate the students as they build circuits and simultaneously see the corresponding circuit schematic. EDISON also comes with a lot of experiments and problems that teachers and students can use immediately. EDISON runs on most OSs and computers, including PCs, Macs, thin clients, tablets--even smart phones, smart TVs and many e-book readers. You can use EDISON in the classroom, at home and anywhere in the world that has Internet access, thus it is also an invaluable tool in distance education.