本公司皆販售最新版本,目前版本僅供參考
最新版 Dragonframe v5 更新於 2022/5/8
支持 macOS、Windows 和 Linux 系統
Dragonframe 是一全功能的逐格動畫製作工具,專為滿足電影,商業,廣播電視和電影的要求設計。當想要停止動畫畫面,獲取動畫逼真細節的時候,就可以使用這個軟體。Dragonframe 強大的定格動畫製作工具集成,定格動畫的解決方案,下一代圖像採集系統。新功能包括視覺化時間軸編輯,集成的口形同步,先進的DMX燈光,運動控制等。
---
特色
創建漂亮的動畫,一次一幀。

ANIMATE YOUR WAY
Step directly between live view and captured frames or switch to auto-toggle. Loop playback to get the sense of movement you're aiming for. The playback and stepping functions are fully customizable for your needs.
REFERENCE MATERIAL
Load multiple reference stills or videos and view them with your animation. Blend them with opacity, pull a chromakey (blue screen), and even assign a garbage matte to see just the part you want. Pop out reference videos into a synchronized player if you want it off to the side.
KEYPAD CONTROLS
With the Dragonframe keypad, you can stay focused on animating instead of hunting around with the mouse. And the hotkeys are fully configurable, so if you really like a feature that is not on the keypad, you can move it there
時間線
基於幀的編輯就像拖放一樣簡單。調整時序,重新拍攝序列,甚至還原已刪除的幀。
繪圖工具
使用基於矢量的繪圖工具標記屏幕以指導動畫。使用增量編輯器繪製和預覽運動​​路徑。
X-SHEET
在X-Sheet側面板中規劃場景並跟踪進度。添加提醒,草繪運動路徑和調整時間。
引導層
從"引導層"側面板配置所有合成指南,繪圖圖層和參考材料。
即時視圖MAG
使用實時視圖放大來打入視頻輔助圖像的一部分。(Canon, Nikon, Olympus and Fujifilm.)
完善您的曝光,專注和構圖。

CAMERA CONTROLS
Set camera settings such as shutter speed, ISO and white balance directly from the program. Check and adjust focus with Canon, Nikon, Olympus or Fujifilm cameras. Take test shots and get your shot right, before you start.
COMPOSITION GUIDES
Compose for multiple formats with confidence. Create custom aspect ratio masks. Combine masks with TV-safe guides. Add grid overlays for help with composition. Add a push-in mask to allow post-production push-in or panning.
IMAGE REVIEW
Check images at full-resolution. Check for over or underexposed areas with the clipping view. Load images from other scenes to compare exposure and composition. Compare image contrast with the Digital Densitometer.
MULTIPLE EXPOSURES




使用不同的相機設置設置多個曝光(子幀)。鏈接曝光以保持其設置相同。

顏色檢測
使用顏色檢測工具比較拍攝之間的色調範圍,或者判斷無光澤照明以獲得綠屏效果。
調色板
通過從高分辨率圖像中採樣顏色來創建顏色樣本。保存為Adobe Swatch Exchange以與其他程序共享。
電影錄製
在某些支持的相機上觸發動畫錄製。下載視頻並在Test Shots托盤中查看。
立體3D工具
查看立體照片,設置會聚或邊緣浮動,並調整眼間距離。
添加音頻並執行角色跟蹤讀數。
MULTI-TRACK EDITING

Import multiple audio tracks and make basic edits. Split tracks and drag segments to adjust timing on the fly. You can even move waveforms and character track readings together, to keep them in sync.
DIALOGUE TRACK READING
Create characters, scrub through your audio, and assign words and phonetics for all your dialogue. View this data while animating, in the X-Sheet, Timeline, or Audio HUD.
波形視圖




查看時間軸或X-Sheet中的混合音頻波形,以便在動畫時可以看到接下來會發生什麼。

參考音軌
使用音頻工作區內參考影片的音頻。在瀏覽音頻時查看視頻並執行軌道讀數。
時間扭曲
音頻以項目幀速率鎖定到動畫。如果以不同的速度查看動畫,音頻會調整以保持同步。
自定義面部集
將您自己的面部集創建為多層Photoshop文件。為嘴,眼睛,耳朵或任何你需要的部位添加組。
音頻HUD
在可配置的抬頭顯示中,在動畫時查看角色對話或面部集。
使用Dragonframe基於曝光的DMX照明板將您的照明提升到新的水平。

LIGHTING, AUTOMATED
Control up to 512 lighting channels in conjunction with our DDMX-512, DMC-16 or DMC+. You define your lighting program before you shoot, and then watch as Dragonframe controls your lights during the shot, leaving your animators to focus on animating.
KEYFRAME SMOOTHING
Define your lighting program with keyframes. Adjust the smoothness in each direction with a simplified "bezier" handle—giving you a large degree of control while maintaining an efficient programming interface.
CUSTOM EXPOSURE LIGHTING
It's easy to create custom lighting programs for different exposures. You can customize the exposure's lighting program directly, or create a new program for one or more exposures to share.
512 LIGHTS




使用新的DDMX-512(或升級的DDMX-S2)編程多達512個燈

燈光配置文件
創建自定義燈光配置文件以將DMX值與光輸出匹配。
BASH LIGHT
編制工作燈以在動畫時使用

。
編程複雜的攝像機在直觀的界面中移​​動。

MOTION CONTROL, INTEGRATED
Integrated motion control means that you can program camera moves and lighting effects from within the same system. It means that you can quickly preview moves using the same camera you will be animating with. It means that the lighting and motion control will be in the right place, at the right time. So if the animator needs to reshoot a few frames, Dragonframe can safely move the rig back into the proper position, every time.
MOVE TESTS
Once you've programmed a move, you'll want to test it out. Run a move test within the Arc workspace and see how it looks. The move test captures video assist frames only, in order to speed up the test process. On a long move, you can reshoot just the section you're working on. You'll have the move perfected in record time.
HARDWARE INTEGRATION
You can use a wide range of hardware, from the do-it-yourself Arduino-based DFMoco sketch to the Volo motion control crane. See compatible hardware in our FAQ for more information
JOGPAD




進入jogpad模式以獲得大文本和簡單的鍵盤界面,以便您可以離開計算機並靠近您的裝備並進行設置。

VIRTUALS
當與DMC-16或DMC +和運動控制起重機(例如Volo)一起使用時,Dragonframe可以提供虛擬笛卡爾軸。
3D導入/導出
傳輸相機在Dragonframe和Maya,Kuper或其他3D軟件之間移動。
羽化
使用新的"羽化"工具添加額外的加速或減速平滑。
標誌物
通過標記要擊中的位置來創建運動路徑,然後調整關鍵幀以在其中移動。
---
影片介紹
---
NEW IN DRAGONFRAME 5
MULTIPLE CAMERA SUPPORT
Add up to four cameras for additional high-resolution angles or video assist.
INTEGRATED "MAKING-OF"
Capture hands-on 'making-of' time-lapse as you animate.
APPLE M1 SILICON (ARM64)
Native support for Apple Silicon.
FRACTIONAL HI-DPI SUPPORT
Improves application scaling on Windows and Linux with fractional scaling (125%, 150%, etc).
MORE DRAWINGS AND REFERENCES
Separate Drawing Layers and References for each magnification view or alternative video assist.
MONOGRAM CREATIVE CONSOLE
Integrates with Monogram Creative Console (Palette Gear) for animation, track reading, or motion control tasks.
ANDROID AND IOS CAPTURE SUPPORT
Our free Dragonframe Tether now runs on both iOS and Android, and supports WiFi connections.
INTEL REALSENSE DEPTH CAMERAS
Intel RealSense cameras provides a way to capture depth information.
DMX LIGHTING FIXTURES
Add lighting panels (such as ARRI Skypanel) to workspace for easier setup and control.
DMX GRAPH MODE
Edit DMX keyframes with curves, similar to Arc.
PROGRAMMABLE ELECTRONIC TRIGGERS
Program the logic out or relay outputs via the DMX timeline.
DMX THREADS
Visually tie DMX badges to a point in the image.
SAFE MOVE BROWSER
Hand the motion control reins over to the art department with a simple move browser.
MOTION CONTROL "AIM POINT"
When used in virtuals, keep the camera pointed at specified point in space.
AUTODESK FBX SUPPORT
Import/export FBX of camera position (with virtuals).
CANON DIGITAL FOCUS + APERTURE LOCK
Canon EOS R + RP with updated stop motion firmware can lock aperture of RF lenses (to avoid flicker) and program focus pulls.
COUPLE MOTOR OUTPUTS
Synchronize (couple) two motor outputs (zDMC only).
LIVE MOTOR POSITIONS OVER OSC
Transmit motor positions over OSC for integration with other systems.
---
PROJECT MANAGEMENT

PRODUCTION/SCENE/TAKE NAMING
Name your project based on the classic clapboard naming convention.
MANAGE MULTIPLE TAKES FOR A SCENE
Create multiple takes within the same scene project. This carries over all of your camera settings, exposures, camera moves, notes, etc.
CUSTOMIZABLE, PRINTABLE X-SHEET (DOPE SHEET)
Manage the project from a dynamic exposure sheet that updates automatically as you add exposures, audio phonemes, camera moves, and change scene length.
POP-UP NOTES
Enter notes that pop up when it's time to capture a frame.
COPY AND RENAME SCENES AND TAKES
Duplicate a scene or take from within Dragonframe.
---
CINEMATOGRAPHY AND COMPOSITION

MULTIPLE EXPOSURES (SUB-FRAMES)
Shoot multiple passes for each frame for effects like front light/backlight or stereo pairs.
GRAPHICAL CAMERA CONTROL
Adjust your still camera's shutter speed, aperture, ISO with visual sliders.
DEPTH OF FIELD SLIDER
Adjust shutter speed and aperture together to affect depth of field without adjusting exposure.
EXPOSURE PREVIEW OFFSET
Adjust live view exposure simulation to match final shot (Canon EOS only).
SAVE CAMERA SETTINGS IN SCENE
Dragonframe saves your camera's settings and restores them when you re-open the scene.
EXPOSURE LOCK
Lock camera settings for each exposure.
INTEGRATED TEST SHOT SYSTEM
Save test shots separately and view them during any take of a scene.
COMPARE IMAGES FROM OTHER SCENES
Import any images and view them at full resolution.
CLIPPING VIEW
Quickly see if you are clipping in the highlights or bottoming in the blacks.
DIGITAL DENSITOMETER
Compare and match areas of exposure regardless of monitor inconsistencies.
ADJUSTABLE BACKGROUND GRAY VALUE
Adjust the area around images in Cine widow to give your eyes a rest—or to suit the imagery.
ASPECT RATIO MASK
Add a standard or custom aspect ratio mask and adjust opacity.
SEPARATE MASK AND TV-SAFE OVERLAY
Frame for both 16:9 and 4:3 in one view.
PUSH-IN MASK
Add an adjustable push-in mask for checking TV-safe and framing for pre-planned push-ins.
GRID LAYERS
Add up to two custom grids to help with horizon line-up and composition.
ADVANCED COMPOSITION GUIDES
Emulate ground glass with composition guides in the guide layers.
---
IMAGE CAPTURE

CAMERA SUPPORT
Full integration with the most cameras: Canon, Nikon, Sony, Olympus, HDV, HDMI and more.
FOLDER WATCHING
Use Dragonframe with many unsupported DSLRs.
CAPTURE BLACK-OUT
Darken your monitor while capturing to keep its glow from interfering with your lighting.
AUTO-DETECT CAMERAS
Automatically connect to cameras.
AUTOMATIC LIVE VIEW REST
Pause live view after configurable period of inactivity to avoid overheating.
VIDEO FRAME AVERAGING
Average 2-60 frames to reduce video noise (video only).
EXTERNAL SHUTTER CONTROL OPTION
Capture live view and then wait for external shutter release (for timing motion control shots).
---
ANIMATION TOOLS

STEP TO LIVE
Step directly from captured frames to your live view.
ONIONSKIN
Blend the live view over any frame in your animation.
AUTO TOGGLE
Toggle between live view and captured frames with adjustable speed.
TOGGLE
One keypress toggles between live and captured frames, then back again when released.
NAV-LINE
Quickly navigate your animation sequence, as well as select frames for playback.
HIGH-RES PLAYBACK
Play back either your video assist frames or proxies of your full-resolution captures.
SHORT PLAY
Play back the last twelve frames (configurable).
DRAWING TOOLS
Draw paths and lines on screen to assist with animation.
DIFFERENCE MODE
Useful for re-lining up a shot if camera or set is bumped.
LIGHTS PROMINENT / DARKS PROMINENT
Useful when character is dark and background is light, or visa versa.
ROTOSCOPE LAYERS
Import images, movie files, or Dragonframe scenes as a line-up layer for easy double-pass line-ups, chromakey, or onion-skin.
CHROMAKEY / GREENSCREEN
Use basic chroma key (green screen) pull for line up of effects shots.
LAYER POSITION/SIZE/ORIENTATION
Adjust rotoscope layer orientation, scale and position.
PLAY/LOOP MARKERS
Mark in and out points for playback and looping using the Nav-Line.
USER-ASSIGNED HOT KEYS
Simple interface for re-mapping the default keyboard commands.
PUNCH-IN FOR ANIMATION
Use Canon, Nikon, Olympus or Fujifilm live view magnification to punch in on a section of the video assist image.
AUXILIARY MONITOR
Send main view to second monitor (video village).
---
STEREOSCOPIC 3D TOOLS

INTEGRATED 3D SHOOTING
Automate 3D shooting with a stereoscopic slider.
3D STEREO REVIEW
View anaglyphs, set convergence or edge float, and adjust interocular distances.
3D TEST SHOTS
Take 3D test shots and use the 3D review tools to evaluate them.
3D PLAYBACK
Play 3D sequences using anaglyphs or transparencies in color or black and white.
EXPORT STEREO (3D) MOVIE
Export 3D sequences to various movie formats.
---
TIME-LAPSE

INTERVAL
Set an interval in hours, minutes, seconds.
START TIME
Start time-lapse at a future date or time.
END TIME
End time-lapse at a future date or time.
TOTAL FRAMES
End time-lapse after specified number of frames are captured.
HIGH PRECISION
Capture within 0.1 second of the specified interval with most cameras.
---
EXPORT

DIRECT ACCESS TO SOURCE RAW/JPG/TIFF FILES
Your camera's high-res source files are saved in an easily-accessible directory.
EXPORT MOVIE
Create a QuickTime, AVI or MP4 movie with many export options.
EXPORT IMAGE SEQUENCE
Export your frames in different image formats, customize naming, etc.
AFTER EFFECTS
Import image sequence directly from scene source location.
新版 Dragonframe 5 系統需求
System Requirements – Mac
» macOS 10.13+ (M1 or Intel)
» 4GB+ RAM or more
» A supported camera
System Requirements – Windows
» Windows 7/8.1/10/11 (64-Bit Only)
» OpenGL 2.1 Capable Graphics Card
» Intel/AMD CPU with 2+ Cores
» 4GB+ RAM
» A supported camera
System Requirements – Linux
» x86_64/amd64 Ubuntu 18+ or Fedora 22+
» (Ubuntu recommended)
» OpenGL 2.1 Capable Graphics Card
» Intel/AMD CPU with 2+ Cores
» 4GB+ RAM
» A supported camera
About the Keypad Controller
借助Dragonframe Bluetooth/USB Controller,您可以擺脫電腦的束縛,更方便操作。
我們新的藍牙鍵盤具有無線,抗震和超靈敏的功能。它可以在需要的任何位置提供動畫所需的功能,鍵盤控制器也提供USB支持。
注意:我們僅將鍵盤出售給Dragonframe許可證持有者
---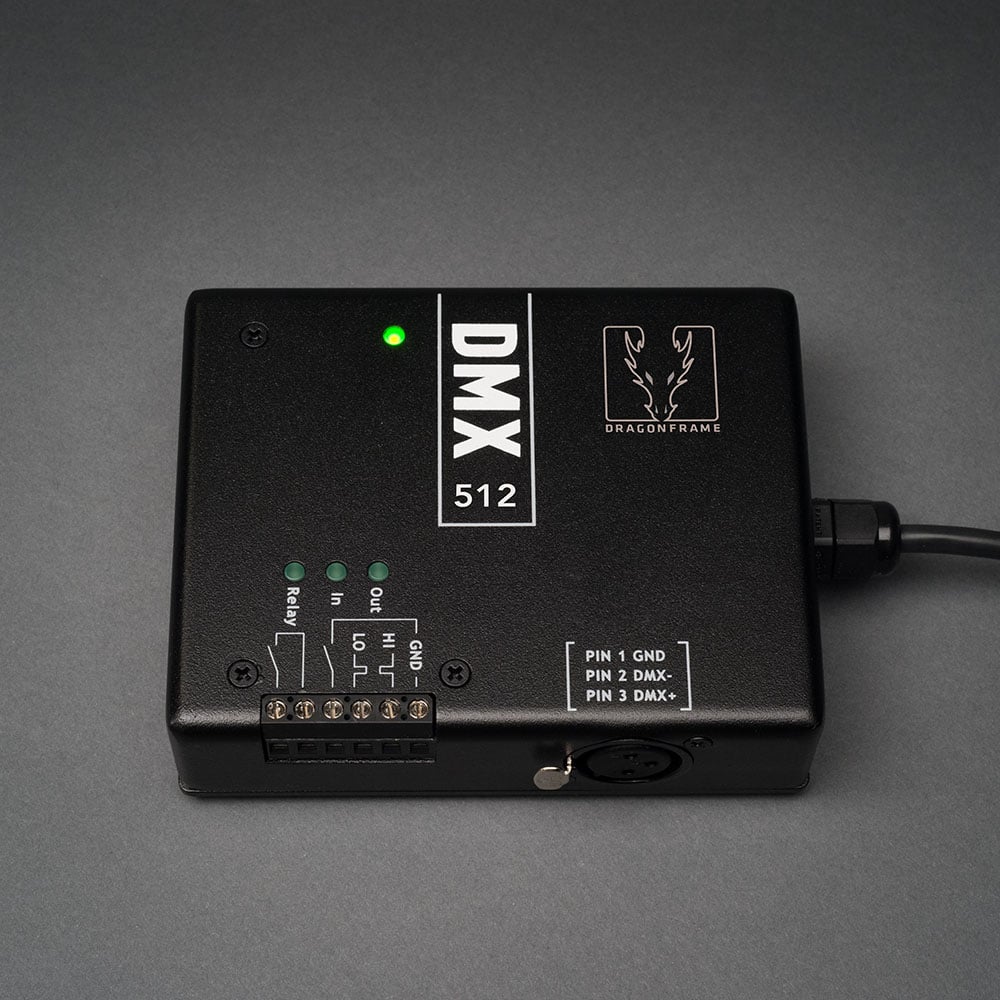 DDMX-512 高級照明控件
使用我們的DMX512和數字I / O控制器自動進行照明並與外部設備進行交互。 對場景/曝光照明進行編程以實現高級效果,並輕鬆自動執行bash照明。
DDMX-512支持512個照明通道。必須使用Dragonframe v4才能訪問所有512個通道。 使用Dragonframe 3,DDMX-512將僅提供99個通道。
本產品適用於定格和延時拍攝。 為了獲得實時DMX功能,您需要我們的DMC-16實時控制器。
---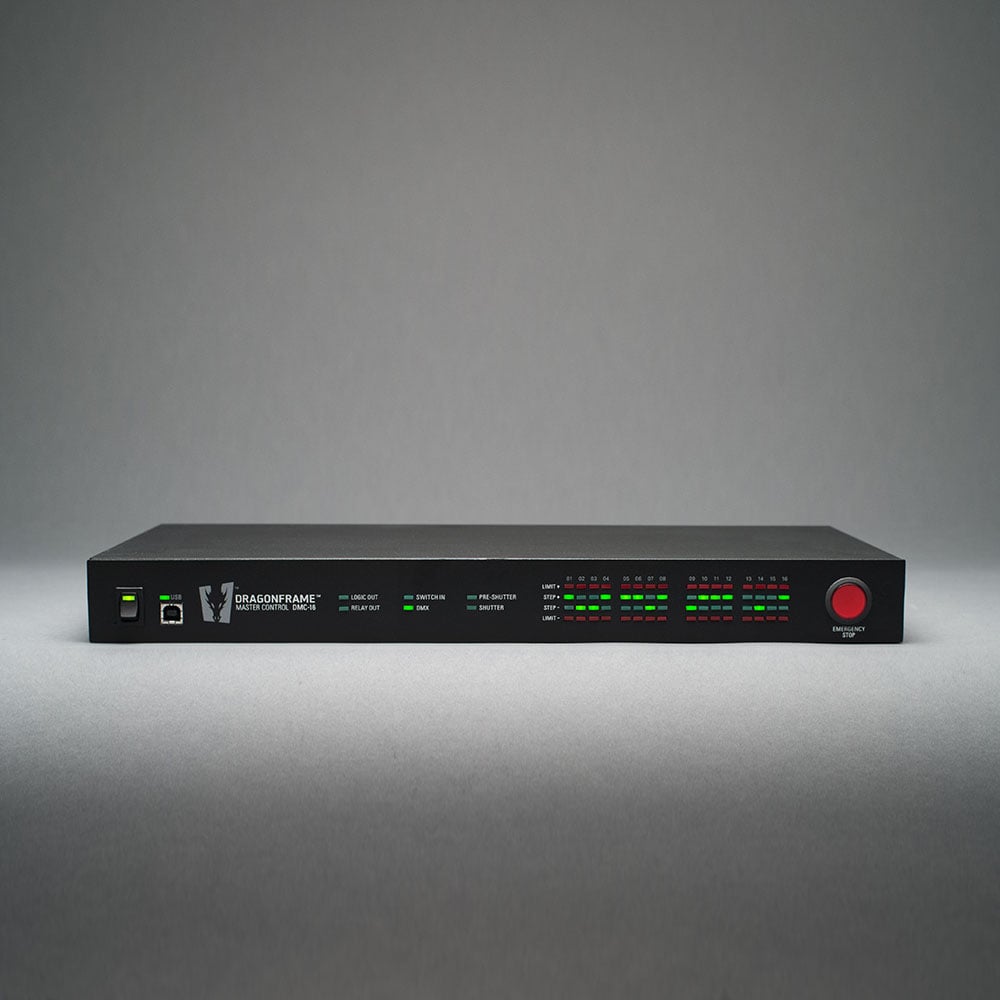 DMC-16 (Dragonframe Master Controller)
DMC-16 是和Dragonframe軟體一起使用的16軸運動控制協調器。
它提供了16個通道,它們以高達200kHz的速度完全同步的步進和方向信號,攝像頭觸發器,DMX512照明控制,限位開關輸入以及一組用於與外部設備接口的觸發器。
近期已升級到Zynq 7Z020處理器,提高性能和可靠性。
---
EOS Live View Correction Cap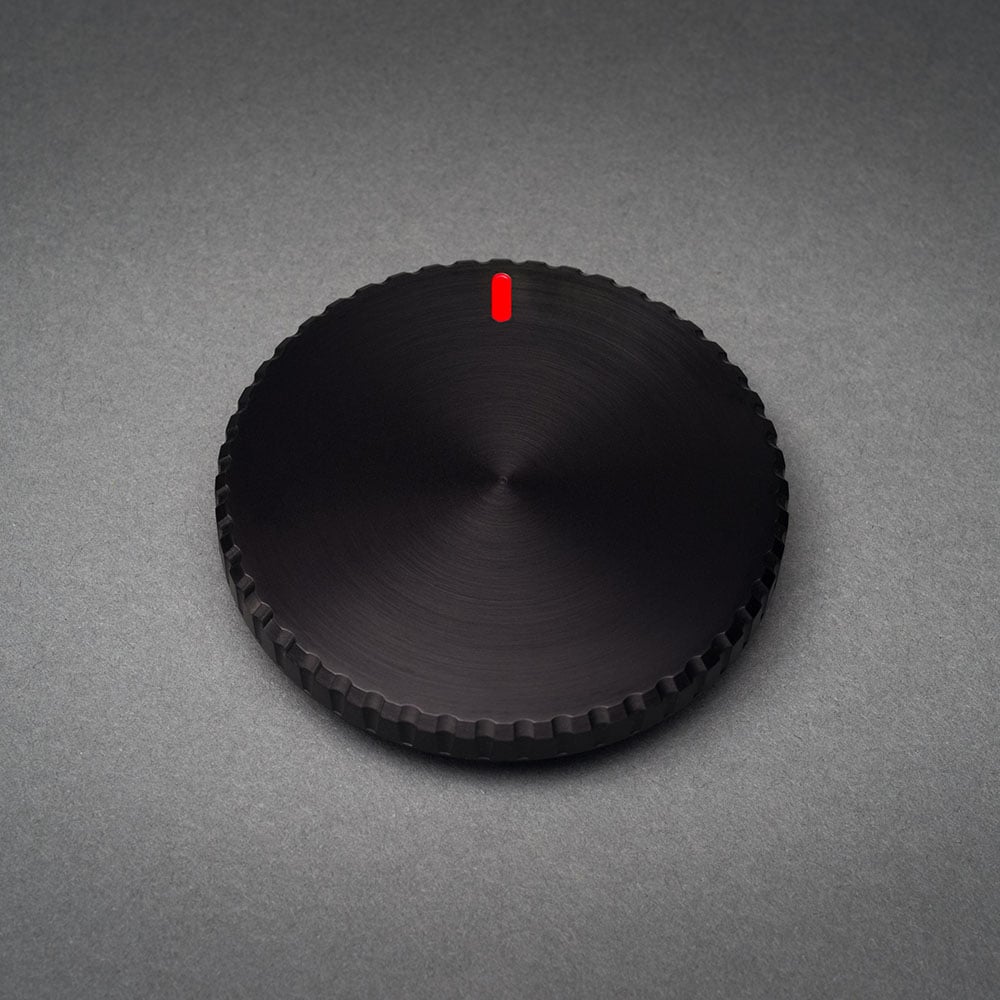 The EOS Live View Correction Cap for Canon EOS DSLRs corrects a compatibility issue between the camera and non-digital lenses, making it possible to match live view with actual camera exposure.
This is made for Canon EF/EF-S mount bodies.
It is not needed for Canon RF mount bodies (mirrorless).
It is made of anodized, machined aluminum.